Coolcarrigan
Church
The church was founded in 1881 and consecrated as a Church of Ireland church in 1885 by Archbishop Lord Plunkett.


It is built in a woodland setting in view of the main house. It is surrounded by a circular, dry moat and can only be entered by passing through a lynch gate. There is a small graveyard attached to the church.


Irish Text On Walls
These were chosen by Douglas Hyde, a family friend. He was the first President of Ireland, from 1938-1945 and founder of the Gaelic League.


Film Location
The church has featured in several films. The most noteworthy being the TV screening of the 'Irish RM' starring Peter Bowles.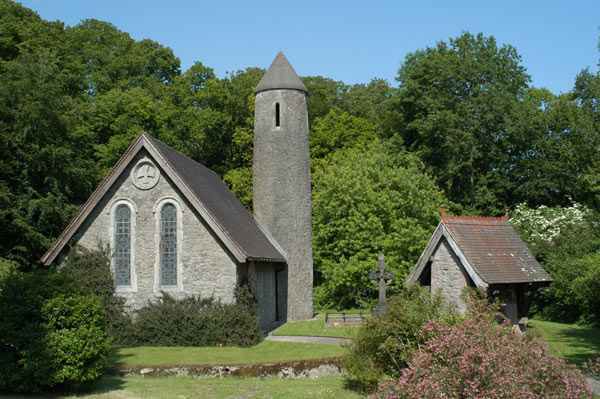 Church Architecture
The church is designed in the Hiberno Romanesquerevival derived from Temple Finghin, a small chapel at the old monastic settlement of Clonmacnoise, on the banks of the River Shannon.


Temple Finghin dates from 1160-1170. There is a fine Romanesque chancel arch and like Coolcarrigan the most unusual feature is the unusual little round tower attached to the church.


There are no records remaining as to who the architect was. It is thought to be probably James Fuller, who was the Diosesan architect at the time and built a few private churches. He was foremost in the Hiberno-Romanesque revival at the time.
Church Windows
The windows are all dedicated to past family members.


The two earliest are thought to be by the English firm Heaton Butler and Bayne, who also did work locally in Clane and St Brigid's Cathedral in Kildare.The remaining windows came out of the studios created in Dublin by Sarah Purser in 1903. She was later succeeded by Evie Hone and Patrick Pollen.


The three side windows with Celtic ornamentation were installed in 1911,1912 and 1927.


The two large west windows, with symbols of the four evangelists and based on designs from the Book of Armagh were put in in 1916. The east window was made by Patrick Pollen in 1980.